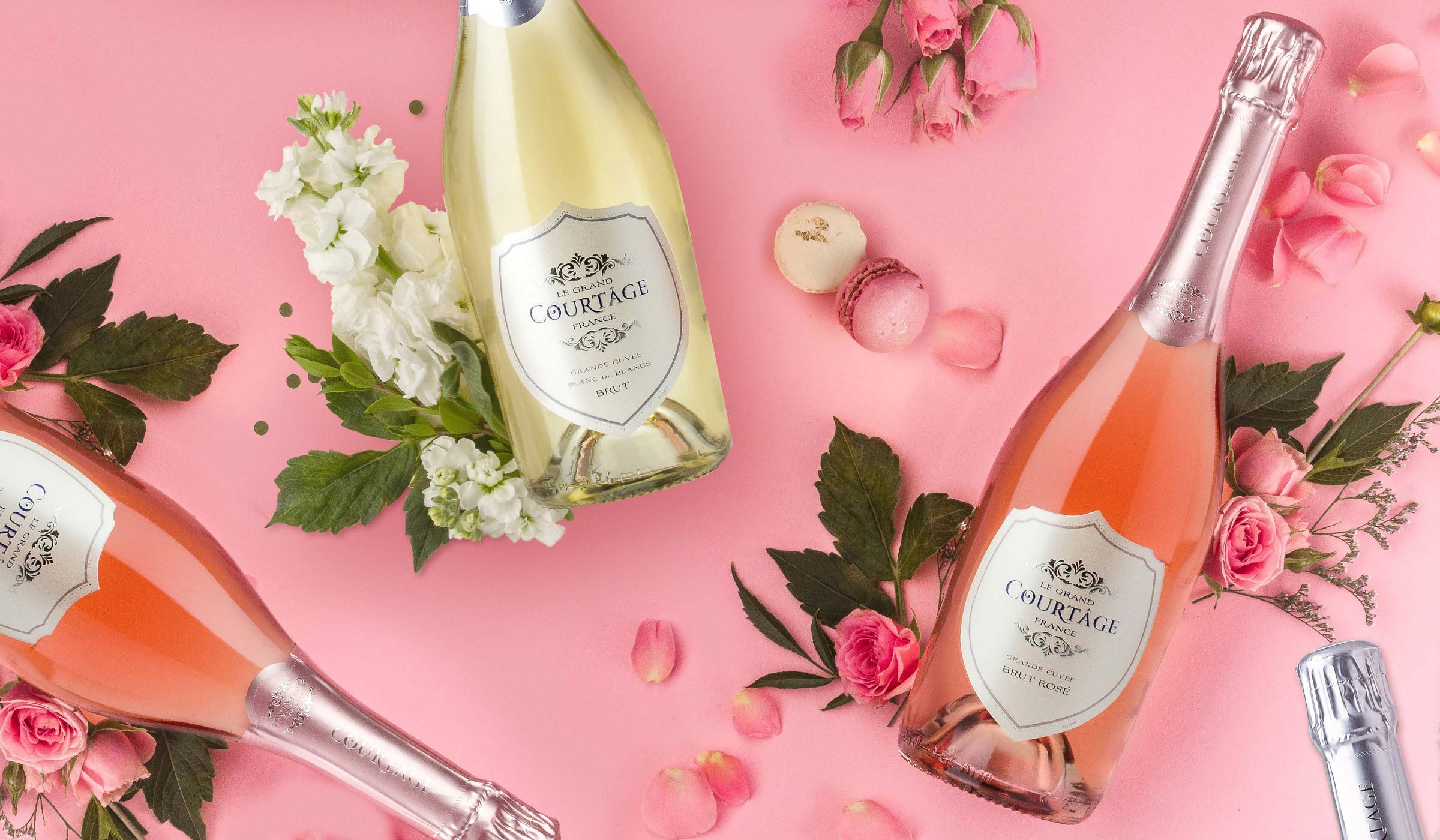 Le Grand Courtâge
What is the difference between sparkling wine and Champagne?
A question that we are often asked is, "What is the difference between "Sparkling Wine" and "Champagne"? The easy and short answer is that sparkling wine can only be called Champagne if it comes from the region of Champagne, France, which is just outside of Paris. Further, champagne can only be made using Chardonnay, Pinot Noir, and Pinot Meunier.
To clarify, all Champagne is sparkling wine, but not all sparkling wine is Champagne. We really should think of Champagne in terms of a geographical place as opposed to a winemaking style.
Where do the bubbles come from?: Sparkling wine is made by taking the simple formula for fermentation (sugar + yeast = alcohol and CO2), and not allowing the resulting gas to escape. When you ferment wine in a closed or sealed environment, the carbon dioxide (CO2) returns into the wine, only to be released in the form of tiny bubbles after opening.
Origins: The story of how this all started is attributed to the monk Dom Perignon (1638-1715), who is noted to have said, "Come quickly, I'm seeing stars.", but in reality, it was probably discovered slowly over time by many monks in the Champagne region.
Types of Sparkling Wine: Producers from every region of the world have seized this moment given the popularity of bubbly and the rising cost of champagne. In Spain, cava is made in many different styles, but the best examples have small bubbles and balance freshness with creaminess. The wines that sparkle in Italy—or more specifically the Veneto region of Italy—are called Prosecco and have larger bubbles (better for cocktails) and a focus on the fruit. In Austria and Germany, they call sparkling wines Sekt (pronounced zekt). Now you can find sparkling wine made in Tasmania, Argentina, Australia, and of course the U.S.
Three Hallmarks of a Good Sparkler:
Fresh: Bright and alive in your mouth, fruity but not necessarily sweet.
Precise: On the tongue, the wine should feel direct and penetrating. Precision is more about the acid, which is mandatory for good sparkling wines.
Sparkling: Small bubbles are a sign of high-quality wine.
Whether sparkling wine or champagne, the truth is that sparkling wine is gaining in popularity as people realize that it is the most versatile wine for pairing (aka the scrubbing bubbles for the palate) and transitions beautifully from breakfast to dessert and light dishes to fried foods, spicy cuisine or rich, sauces. They're also great as aperitifs and with dishes that have a bit of fruitiness or sweet. Looking for pairing and cocktail inspiration? Hop over to our entertain page for some delicious and refreshing recipes.
Le Grand Courtage is a gold-medal winning, French sparkling wine produced in Nuits St Georges in Burgundy, France. We offer a Blanc de Blancs Brut and a Brut Rosé and use Chardonnay, Ugni Blanc, Colombard, Chenin Blanc and Gamay in our blends in order to offer a dry, crisp, light palate with just a hint of fruit and floral on the finish in order to create a balanced flavor profile. We wanted to create something which is extremely cuisine and cocktail-friendly.
Our female owner set out to create an approachable, affordable, versatile French bubbly that is perfect for all of life's occasions and everyday moments. Cheers!