Le Grand Courtâge
What is the difference between sparkling wine and Champagne?
May 9, 2023
A question that we are often asked is, "What is the difference between "Sparkling Wine" and "Champagne"? Or "What is the difference between "Sparkling Wine" and "Prosecco"? The easy and short answer is that sparkling wine can only be called "Champagne" if it is made in the region of Champagne, France which is located just outside of Paris. To clarify, all Champagne is sparkling wine, but not all sparkling wine is Champagne. We really should think of Champagne in terms of a geographical location as opposed to just a winemaking style. For all products produced even 10 feet outside of the champagne region, it legally must be called "sparkling wine" however in other areas of the world, there are other names utilized for fizz ranging from prosecco, cava, sekt etc. In America, it must legally be called sparkling wine regardless of the grapes or the production method. Domestic sparkling brands like Chandon, Schramsberg or Roederer are produced in California.
For those that ponder "is sparkling wine champagne" or "what is the difference between sparkling wine vs. champagne", one of the main distinctions is the price. Champagne is far more expensive than sparkling wine. France produces many fabulous effervescent sparkling wines and cremants, like Le Grand Courtâge, that are very affordable and offer a great bang for your buck compared to champagne.
Where Do The Bubbles In Champagne Come From?
Some people also ask if "champagne" or "sparkling wine" is wine, and the answer is yes.  Sparkling wine starts off as still wine during the primary fermentation, and then the bubbles are produced during the secondary fermentation.
The primary fermentation converts the juice from the grapes to still wine, and then in the secondary fermentation, sparkling wine is made by a fermentation process that combines sugar and yeast to produce alcohol and CO2. The fermentation process for wine requires an enclosed or sealed environment so that the resulting gas from the secondary fermentation can escape. The carbon dioxide then returns into the wine released in the form of tiny bubbles after opening the bottle. In some cases, you'll find lower-priced bubbly wines on shelves that are injected with bubbles, similar to soda, and these are not defined as sparkling wine in the proper, traditional context.
An Overview Of The Types Of Sparkling Wine & Champagne
Producers from every region of the world have seized upon the popularity of bubbly and the rising cost of champagne.
Champagne
Made in the 'Champagne' region approximately 1 hour from Paris.  Champagne is made of Chardonnay, Pinot Noir, and Pinot Meunier grapes. Legally, it can only be made using these three grapes and must be aged for a minimum of 18 months.
The iconic names associated with some of the best-selling champagne brands include Veuve Clicquot, Dom Perignon, Moet & Chandon, Nicolas Feuillatte, Bollinger, Tattinger, Laurent-Perrier and Piper-Heidsieck to name a few.  
All of the below styles are 'sparkling wines' and present a great alternative to champagne.  These are affordable, value sparkling wines, or what some call cheap champagne.  That, however, is a misnomer and not correct, as there is no such thing, and it's not legally correct.
Cava:  In Spain, Cava is made in many different styles. But the best examples contain small bubbles and have a balanced taste of freshness and creaminess. Cava undergoes the same production process as Champagne, but with different grapes.  Hailing from the Penedès region of northeast Catalonia, well known brands include Freixenet Sparkling Cordon Negro Brut Cava, Anna de Codorniu, Segura Viudas and Juve y Camps.  The varietals utilized can include Macabeo, Xarel-lo, Parellada, Chardonnay, Subirat Parent, red Garnacha, Trepat, Monastrell and Pinot Noir.
Prosecco: The wines that sparkle in the Veneto region of Italy are called Prosecco and are made with 80% Glera grapes. These wines have larger bubbles and are produced in large tanks using a method called the Charmat.  The best-known brand is La Marca Prosecco, and other brands include Mionetto, Ruffino, Caposaldo and our fav, Massotina.
Sekt: The sparkling wines of Austria and Germany are called Sekt. The wines are made using the tank method with fermentation in stainless steel. The grapes may range from Pinot Blanc, Chardonnay, Pinot Gris, Elbling, Pinot Noir or Pinot Meunier. Sekt brands are not very well known in the U.S., but here are a few options to consider Hild Elbling, Schlossgut Diel, Dr. Loosen "Dr. L" Riesling Sekt, and Peter Lauer.
Crémant: France is known for its 'Champagne' in which the fermentation occurs inside each bottle. Crémant is a style of sparkling wine produced in France, but outside of Champagne using the "method champenoise" second fermentation. Unlike other Champagnes, Crémant typically has less atmospheric pressure which gives the bubbles a softer, creamier taste in contrast to the stark, bracing pop you get from Champagne.  Depending upon where the crémant is produced, it may be chardonnay, pinot noir, chenin blanc, Sémillon. Sauvignon, Pinot Blanc, Auxerrois, Pinot Gris, Riesling, Aligoté or Cab Franc. Notable brands in the U.S. include Gerard Bertrand, JCB, Lucien Albrecht, Gratien Meyer and Louis Bouillet.
Now That You've Got A Better Understanding On All The Styles Of Sparkling Wine, Now Let's Discuss Sweetness Levels, How To Serve Champagne And How To Pair It.
Determining The Sweetness Level Of Champagne
There are so many misconceptions about residual sugar, sugar content and sweet vs fruit forward wines.  The majority of champagne or sparkling wines are quite dry in nature, but the lingo used is confusing.
The sweetest "champagnes" are dry or demi-sec.  The majority of bubbles served in the U.S. tend to be Brut and have a nice finish of fruit without being sweet.  Prosecco is much lighter and sweeter than traditional French sparkling wines or champagnes.
What Is Dosage?
The sweetness of sparkling is determined by the level of the final dosage, which is the sugar and wine mixture added to a sparkling wine after secondary fermentation to help balance out the acidity. This typically consists of a mixture of reserve wine and pure cane sugar. The quantity of dosage added determines the sweetness of the final product.
This chart we found from We Drink Bubbles should help serve as a refence for your next sparkling wine purchase.   Brut Nature is the driest and Demi Sec is the sweetest.
What Is The Best Glassware For Champagne?
People often believe that the best way to serve Champagne is in a flute or coupe. Actually, these two shapes aren't best suited to expressing its full character! Choose a tall, bulbous glass with a narrow top, shaped like a tulip. Your champagne will then be able to best showcase all its aromas and fine bubbles.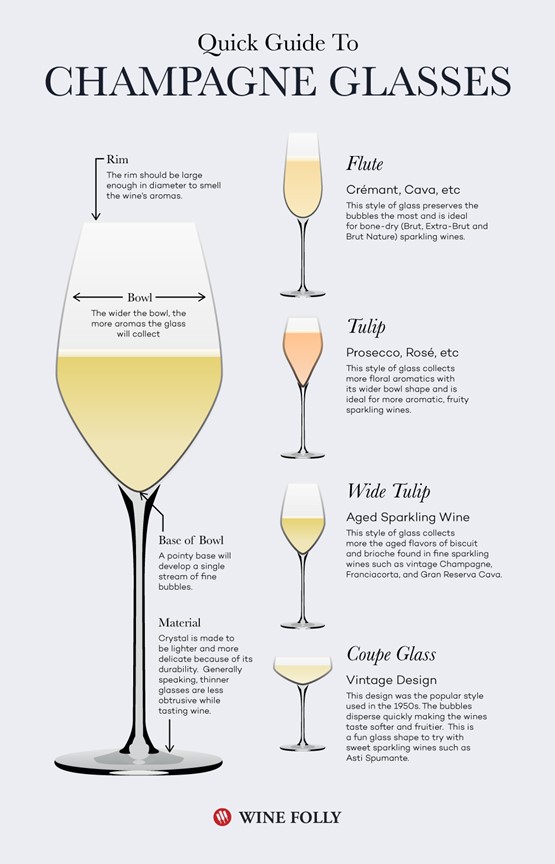 The above link provides insights on how best to open sparkling wine and pop the cork along with the best practices for serving bubbly.
Being bubbly lovers, we enjoy exploring various styles, grapes and expressions of sparkling wine from around the world.  Given its versatility, it is really fantastic breakfast to dessert and is extremely cuisine and cocktail friendly.  Sometimes referred to as the 'scrubbing bubbles for the palate' sparkling wine and champagne are quite delectable with anything greasy, fatty, fried or spicy (fried chicken is to die for) and yet delicate enough for egg dishes and sushi.
Many sommeliers will say sparkling wine or champagne is the most versatile and best option for wine and food pairing.   If you are wondering what snack(s) goes well with champagne, look no further than the below list for both highbrow and low brow champagne and sparkling wine food pairing inspiration.
Top Pairings For Sparkling Wine
Appetizers
Almonds
Buttered or Truffled Popcorn
Cocktail Sausages
Duck-fat French fries
Egg Rolls & Spicy Asian appetizers
Egg-based hors d'oeuvres
Olives
Potato Chips
Prosciutto-wrapped Appetizers
Fried or Stuffed Mushrooms
Vegetables
Meat
Bacon
BBQ (esp Rosé)
Beef or Pork Sliders
Brisket Chili
Duck
Game
Foie Gras
Fried Chicken
Lamb
Prosciutto
Ribs
Roasted Chicken
Salami
Sweet Breads
Desserts
Angel Food Cake
Berries
Cheesecake
White Chocolate
Fruit-Based Desserts & Tarts
Mascarpone Cheese
Shortbread Cookies
Toffee
Rocca
Salted Caramels
Seafood
Crab Rangoons
Fish Tacos
Lobster
Raw Oysters
Shellfish
Shrimp
Smoked Salmon
Sushi
Crab
Brunch
Eggs Benedict
Mushroom, Bacon Omelets
Frittatas
Scrambled Eggs
Brioche French Toast with maple syrup (blanc) or berry syrup (rosé)
Pasta
Butternut Squash Ravioli
Macaroni & Cheese with a breadcrumb crust
Pastas with cream or mushroom sauces
Risotto with mushroom sauce
Cheeses
Brie
Cheddar
Goat
Gouda
Parmesan
Asian
Anything spicy
Pad Thai
Curry
Pizza
Pizza Quattro Formaggi or Bianca
Prosciutto and Burrata Pizza
Wild Mushroom Pizza
French Sparkling Wine Production
If you'd like a little more insights into production, this link provides a little more insight into how Le Grand  Courtâge, is made.  With 93 points, and a crisp, light and refreshing palate profile, it is one of the best sparkling wines on the market, and certainly one of the best affordable French sparkling wines to purchase at <$20.  Shop our vegan-friendly, French sparkling wines here.
Three Hallmarks of a Good Sparkling Wine
Fresh: Bright and alive in your mouth, fruity but not necessarily sweet. The flavor of a Brut or a Dry Champagne should be like a crisp apple, or melon profile, with a lovely aroma of stone fruit and slight minerality.
Precise: On the tongue, the wine should feel dreamy as the bubbles roll around your mouth. Precision is more about the acid, which is mandatory for good sparkling wines. This will give it a crisp mouth feel.
Sparkling: Small bubbles are a sign of high-quality wine. The best sparklers will have a constant path of uniform bubbles traveling from the bottom to the top. Less quality sparkling wine will have different sizes of bubbles taking different paths. (An imperfect wineglass can cause this also)
Sparkling wine can be some of the most versatile wines for pairing because of its bubbles that help scrub the palate. These wines transition well between light and heavy cuisines, so they make it easy to satisfy recipe pairings. They're also great as aperitifs and with dishes that have a bit of fruitiness or sweetness.
Looking for champagne pairings or champagne cocktail inspiration? Hop over to our entertainment page for numerous downloadable guides and ebooks for effortless entertaining and to be the hostess with the mostess
About Us
At Le Grand Courtâge, we created a Vin Mousseux using the "Cuve Close" ("closed tank" method, otherwise known as the Charmat method) in order to create consistency in the style.  Our 90+ point French sparkling wines are produced in Nuits St Georges in Burgundy, France. We offer a Blanc de Blancs Brut and a Brut Rosé and use Chardonnay, Ugni Blanc, Colombard, Chenin Blanc, and Gamay in our blends in order to offer a dry, crisp, light palate with just a hint of fruit and floral on the finish in order to create a balanced flavor profile. We wanted to create something which is extremely cuisine and cocktail-friendly.
Tawnya Falkner, the American female founder and CEO of Le Grand Courtâge and ​Très Chic, took the leap and moved to France with the intent to create an affordable luxury that celebrates and elevates every day and reminds people to live joyously.  Her goal was an approachable, affordable, versatile French bubbly that is perfect for all of life's occasions and everyday moments. Cheers!
Like this article? learn more about the brand or get entertaining inspiration on our instagram at @legrandcourtage and @treschicrose
More Blogs
We've created a FREE Champagne Themed Holiday Party Gift Tags & Escort Card Printables Bundle For The Holiday Season and New Years Eve HERE