Party Drink Calculator For Weddings – How Much Champagne, Sparkling Wine & French Rosé To Serve For Every Occasion
December 23, 2022

Are you in a season of party and event planning? Need to know how much wine to order for a wedding? If you are trying to calculate how much alcohol to order for an event, we have some simple tools to help.
There's always something to celebrate! From small intimate dinner parties to retirement parties, college graduations, engagements, baby and bridal showers, birthdays, anniversaries, promotions, launch parties, & our personal favorites: weddings, bachelorette parties, & bridal showers.  We aim to offer Effortless Entertaining and/or Planning Tips and even a Drink Calculator for events!
No need to get overwhelmed! We've got you covered with a party drinks calculator to make your event effortless AND elevated!
The Great Courtship
The name of our French sparkling wines translates to "The Great Courtship", making them a best wedding wine choice & perfect meaningful detail for celebrations of love and friendship! Available in classic Blanc de Blancs brut and brut rosé, at weddings and celebrations of all kinds. Nothing gets the party started like the POP of the cork! (Or as we call it, The Universal Sound of Happy!).  Provence-style Très Chic Rosé is also a romantic yet practical option for weddings and events. As it is  "in-between" red and white wines. Food friendly and versatile, it's light enough for the white wine drinker and has a softer profile. For the red wine drinker, it has more structure than white. And the beautiful rose hues really elevate a show-stopping tablescape!
Courtâge Tip: There are so many ways to elevate the party with a pop, fizz, and clink! Bubbly is the most versatile for food pairings and cocktails and just sets the scene for events.  Whether you're using full-size 750ml bottles of brut for an eye-catching champagne tower at your reception or serving up individual champagne toasts at cocktail hour with the 187ml mini wine bottles. Everyone enjoys a glass of sparkling wine at a wedding!
Don't forget food pairings, fun playlists, & entertaining etiquette! Browse our free ebooks here for even more party planning inspiration!
How To Calculate How Much Alcohol Or Wine You Need For Your Event Using The Party Drink Calculator.
Wine Party Calculator FAQs:
How many bottles of wine for a wedding? How much alcohol is in wine? How much wine to order for 100 guests? Here is an easy drink size calculator to use as a beverage calculator for events. In an average event setting, you can expect each guest will drink one alcoholic beverage per hour. Likely drinking more during cocktail hour, and less during the meal. Plus, a classic champagne toast (mainly for weddings). One drink per hour is a realistic benchmark to begin planning. Below is an easy wine calculator formula.
Use this standard drink calculator for a party as an example: For an event with 50 adults over 21 for four hours you'll need 150-200 beverages depending upon time of day and how much of a drinking crowd there is.
We found this great wedding drink calculator graphic and insights from Brides of North Texas in their article "Pour Decisions | How Much to Serve via Our Helpful Wedding Alcohol Calculator"
One standard bottle of still wine has 5 servings per bottle assuming a 5 oz pour.
One standard bottle of sparkling wine has typically 6-8 servings per bottle depending upon the type of flute, size, and pour level.  Assume ½ glass poured or 3oz equals 8 glasses/bottle.
One standard bottle of spirits can make 18 mixed drinks.

One bottle or can of beer is 1 serving.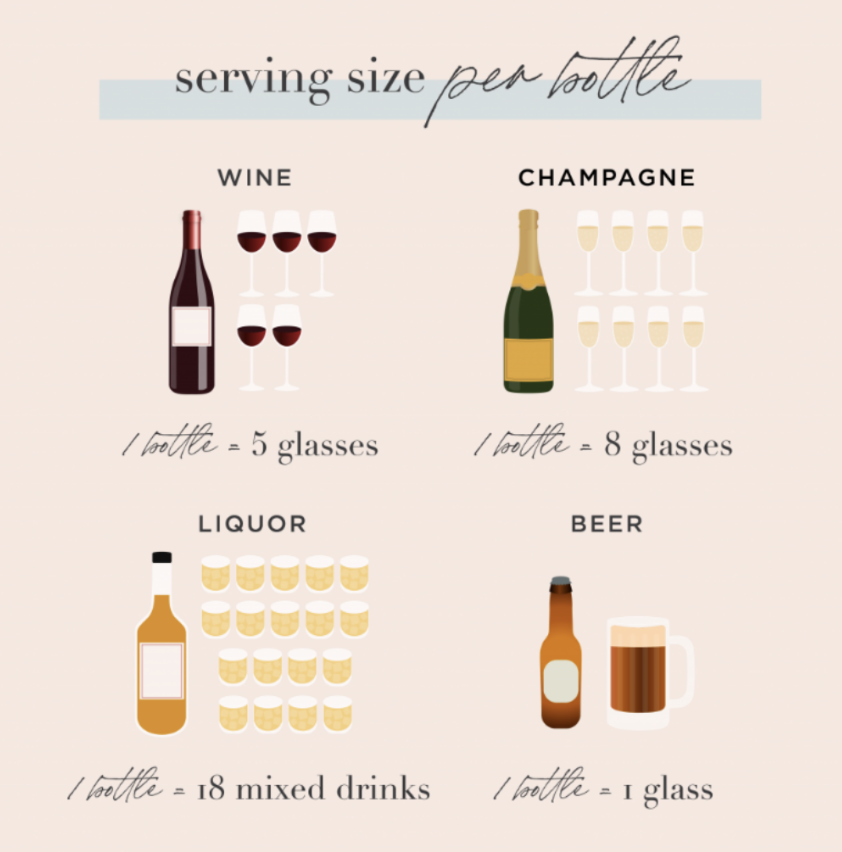 Using this wedding alcohol calculator or any 'ole event calculator, you can estimate how much alcohol to order for a wedding, party, or other event with this  Evite Drink Calculator.  This does NOT include the bubbly needed for the champagne Toast.  See the chart below for that.
As a general rule, 20 bottles of wine and sparkling wine/champagne = 100 servings (we recommend 75% wine and 25% sparkling for the event.
How Many Cases Of Champagne Will I Need For Toast?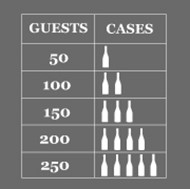 Whether serving prosecco, sparkling wine, or champagne for the 'champagne Toast', we recommend the below as a general rule assuming 4 oz pours.  We recommend a 'Brut' style as it's dry with a hint of residual sugar whereas a lot of Proseccos, like La Marca are extra dry (odd but sweeter than brut) or demi sec so they tend to be sweeter in style.
Outside the drink's calculator formula, there are other factors to take into account.  Considerations when deciding how much alcohol to buy for a wedding or event include, but are not limited to:
When party planning, the menu is the first priority, and then the adult beverages served are a close second priority. Time of year your event is planned, time of the event, the menu being served, cashless or cash bar. Whether just beer and wine are served or if cocktails are offered, whether specialty cocktails are offered, and lastly, the preference of drinks & alcohol tolerance of the guest list all factor into the estimating process.
When trying to answer some of the most common Wedding Alcohol Questions, we also liked this article from Brides magazine: How Much Alcohol Do You Need for Your Wedding?
Courtâge Tip: Join our affordable wine club and save 20% on all your wedding wine! Read more here!
Additional Ideas for how to incorporate timeless, elegant yet modern, and romantic wines as an elevated detail for your event.
Below are several ideas on how to incorporate sparkling wine into your wedding or party. As well as some tips on determining wine party calculations and how much wine you need for your event. Hosting a party or planning a wedding can be stressful.  Making sure you have enough wine on hand for guests shouldn't be!
Signature Cocktails For Weddings
Thematic concepts and matching colors are all the rage visually, but the 'mixers' are often less expensive too, so creating spritzers and fun cocktails might be a great way to balance your costs as well.
With our palate profile and pricing, we are optimal for cocktails. We created the following cocktail books, but let your inner mixologist have fun for your engagement, shower and bachelorette festivities.
Party Favors & 187ml
187ml bottles mini bottles of sparkling wine as reception favors can also double as the reception escort cards! Simply add a name/place card to hang from the bottle so guests can navigate their reception seating arrangements. This creates a statement when guests arrive at a table filled with mini champagne bottles.
You can serve in a glass or with straws that match your color scheme. Colored paper straws in a small wine bottle are a nice addition to your theme, and also prevent make-up and wardrobe faux pas.
Fabulous! Indulge guests further with personalized name cards to show them how special they are to you! This can double as the champagne toast to the newlyweds!
Or, personalize each bottle with your name and that of your partner, as well as the date of your wedding for a memorable wedding favor that will make everyone "Cheer"! One of our favorite ways to present these to wedding guests is having their names written on the bottle with beautiful calligraphy. What an elevated favor!
Thinking of serving a signature sparkling cocktail during cocktail hour or at your reception? We have several cocktail recipe booklets to browse for inspiration here.
We hope this wedding wine calculator was helpful in making your celebration preparation easy and fun! More ideas for incorporating wines in bridal, wedding, and party events can be found in our Bridal Look Book – available for free instant download!
Cheers and bonne fête at your next event!