How to Explore Paris like 'Emily in Paris'
December 12, 2022
Here's where to find some of the main locations in the series and see Paris through Emily Cooper's eyes!
With Season 3 of Emily In Paris finally releasing on December 21, 2022 we have put together our very own guide as you plan your trip to France to step into the shoes of Emily Cooper, the young American who has recently arrived in Paris (played by Lily Collins in Darren Starr's new Netflix series).
We've put together a list of 10 of the iconic locations where shooting took place so you can visit them for yourself and feel like you're living out your tres chic Parisian dreams.
Le Grand Courtâges owner, Tawnya Falkner, also took her own leap of faith just like Emily when she too moved to Paris to pursue a new life. Le Grand Courtâge produces our wines in France and you can easily order online to have them delivered straight for you to savor while you want the new season of Emily in Paris! Grab your bottle of French wine here, along with some popcorn or chips (truly an amazing pairing) and might we suggest some sequins and sweats for the Netflix & Chill with your favorite gal pals?
Where to Stay
Grand Hotel Du Palais is located in the 1st arrondissement at 4 Rue de Valois in Paris, France.  The special thing about this hotel is that it shares a courtyard with Place de Valois, otherwise known as the front entrance to Emily in Paris's famous place of work, Savoir.  If you stay at Grand Hotel Du Palais and you want the full Emily in Paris experience, they offer a special package with two tee shirts, a Parisian beret, and an exclusive balcony view of the courtyard!
Inside Tip : Inside the same courtyard is a beautiful cafe Bistrot Valois, a favorite place of Emily in Paris's own William Abadie.  During filming he can be spotted often reading and enjoy a glass of wine which we were lucky enough to discover during our time in Paris. 
Iconic Places to Visit in Paris
The advertising campaign for the new perfume De l'heure is shot on the famous Pont Alexandre III, an iconic Paris bridge opened during the 1900 Universal Exhibition, or world's fair. Stretching across the Seine to Les Invalides, it is one of Paris's best-loved bridges and iconic world- wide so it's no surprise that Emily chose this beautiful backdrop for her advertising shoot. It quite opulent and a fabulous example of the Belle Époque. It's distinctive decoration includes 32 ornate candelabra and four statues representing French history from the Middle Ages to modern times. Near here are the Grand Palais and the Petit Palais, together with the Avenue des Champs-Elysées, on one side, with the Hôtel des Invalides and esplanade on the other.
The beautifully landscaped grounds of a 17th-century palace called the Palais-Royal (now government buildings) are where Emily meets her new friend, Mindy, a nanny living in Paris, during her lunch break. It's located in the center of Paris, just steps from the Louvre, making it the
perfect place to stop while touring the city. Making an eye-catching appearance in the TV show, the Jardin du Palais Royal certainly deserves a starring role. Surrounded by three centuries of elegant architecture, take a seat and admire the view from one the green chairs, which are so emblematic of the city. Be sure to look out for the monochrome striped Columns of Buren.
 La Boulangerie Moderne
Emily's go-to bakery. One pain au chocolat, please. Or several. Address: 16 Rue des Fossés Saint-Jacques, 75005 Paris, France
The opera house where Emily ambushes Pierre Cadault during Swan Lake, wearing one of our favorite outfits of the entire season.  The opera house is designed by architect Charles Garnier is in honour of Emperor Napoleon III and is a real feast for the eyes. It is as famous for its opulent neo-baroque architecture and sweeping marble staircase and the must-see sights include the famous ceremonial room and the domed auditorium ceiling decorated by artist Marc Chagall.

Dubbed the prettiest street in Paris by Mindy… it's certainly quaint and perfect for a saunter through Montmartre and an aperitif! Also, where Emily sets up the Hasten bed campaign.  Rue de Abreuvoir 75018 Paris, France
As one of the most instagrammable spots in the city, Emily visits rue de l'Abreuvoir, to dine at the La Maison Rose. Set in the artistic Montmartre district, its pink façade makes it picture perfect. This artist enclave allows you to follow in the footsteps of famous diners over the years including Picasso, Modigliani, Édith Piaf and Charles Aznavour.
Emily attends a soiree here and having been there, it truly is as stunning and unique as it appears in the show. It is essentially a fairground museum and is laid out over a series of rooms, it's a museum by day and a glorious events space by night, with themes including magic mirrors in a circular circus-style tent and the delights of Venice. This beckons a bygone era and delights all that visit.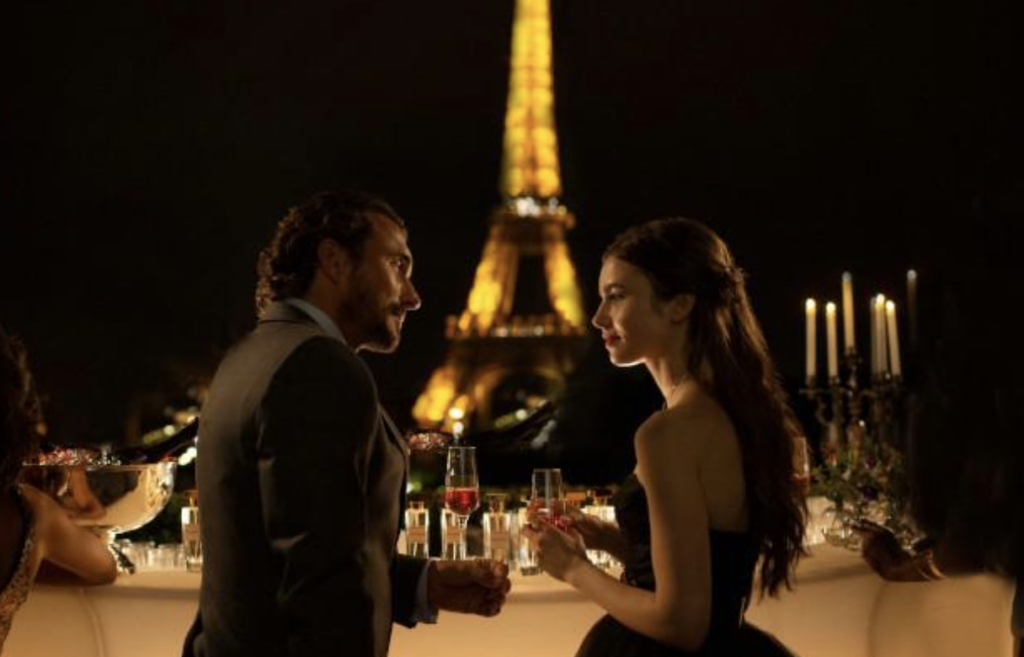 The Café de l'Homme is the location of the launch party for the release of the fictional new fragrance De l'heure is held. Located in Trocadéro inside the Palais de Chaillot, the Café de l'Homme offers a magnificent view of the Eiffel Tower. 
Several major Paris museums are in the near vicinity: the Musée de l'Homme, the Cité de l'Architecture et du Patrimoine, the Musée Guimet, the Palais de Tokyo, the Palais Galliera and the Musée Yves Saint Laurent.
For one of the best and very private views of Paris, then Hôtel Plaza Athénée is without a doubt one of the best opportunities.  Featured in the 7th episode when Emily looks after an actress staying in our famous Haute Couture Suite. It highlights the suite's amazing view of the Eiffel Tower, perfectly captured in our picture-frame window. During the show you also see the lobby, La Galerie and Le Bar.
Where to shop
La Samaritaine is a beautiful department store located in Paris, France. It was originally built in 1869, and is the still to this date the most successful department store in Paris. Not only does this department store have some of the best shopping inn the city, it also contains some of the most authentic and unique dining experiences that Peris has to offer.  If you go, don't miss out on the macaroons that French Terroirs has to offer!
Where to Eat
The Iconic place that Emily meets her short term lover Thomas while enjoy some wine on her own one night out in Paris. Café de Flor is one of the oldest coffee houses in all of Paris. Just like Thomas said in Emily In Paris, many famous philosophers used to visit the coffeehouses long ago, as it's said to have opened its doors in 1885 .
If you go, don't miss out on the French Onion Soup.
Make your own food!

This is the market that Gabrielle takes Emily to collect ingredients for her birthday dinner that they make together inn season 2. Head over on a nice day and collect some of the freshest ingredients in Paris at this cute outdoor market. Grab some tomatoes and fresh pasta and cook up some fresh pasta just like Emily.
Head over to our entertain page for more fresh recipes to pair with your Sparkling wine.