An American Insider's Guide to Visiting Paris: The Arrondissements, Maps, Getting Around & What to Know Before You Go
April 11, 2023

Having lived in Paris, our owner and founder, Tawnya Falkner, has compiled a practical, and fun resource guide for visiting the City of Lights and/or Love…. This includes tips for enjoying the city like a local, as well as some of the obvious touristy highlights, where to stay, what to do, the transportation and how to get around the city.  We've included several maps to help plan your trip to the City of Lights a little easier.
One of the most important things to keep in mind when visiting Paris is to wear comfortable shoes. The city is best explored on foot, and it's easy to get lost in its winding streets. Don't worry about remembering the names of the places you visit; the best way to experience Paris is by getting lost and discovering off-the-beaten-path sights. Alternatively, you can rent a city bike and explore Paris by cycling around for a half-day.
If you're planning to visit Paris, there are countless sights and activities to explore, from world-famous museums to quaint cafes and picturesque parks. Paris is a city of grand boulevards, iconic landmarks, and hidden gems. The city is known for its rich culture, history, and artistic heritage, making it a top travel destination.
Paris is one of the few big cities in the world with as many nicknames as it does. From "Paname", to "Lutèce", to "Pantruche", to "the City of Love" to "the City of Lights".
If it's your first-time visiting Paris, it's recommended to stay near the Seine river, where most of the tourist attractions are located. The 1st, 4th, 5th, and 6th arrondissements are ideal for easy access to the city's most popular tourist attractions and main transportation hubs. If you're looking for a more local experience, or you've visited Paris before and want to explore a different neighborhood, consider staying in the 9th, 10th, 11th, 12th, 14th, or 18th arrondissement.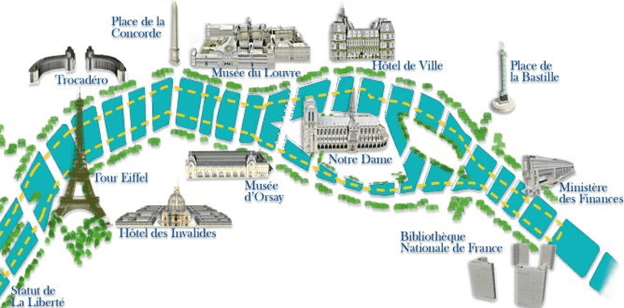 There are many off-the-beaten-path and non-touristy things to do in Paris, which are worth exploring.
Grab lunch inMontmartre, where you can sit at one of the cafes and watch the artists paint. The quiet street of La Maison Rose is absolutely adorable and picturesque.
Check out Musée d'Orsay, which holds one of the largest collections of Impressionist art, or visit Musée de l'Orangerie, which hosts an amazing collection of Monet paintings in a stunning round room, including a quiet meditation or contemplation area.
Take a boat tour along the Seine, which is a great way to see many of the main sites. There are hop on/off, lunch, aperitif, or dinner cruises. Make sure to book in advance. We recommend  Bateaux Parisiens or Get Your Guide.
If you're looking for a quiet respite, you can visit Au Vieux Paris d'Arcole, one of our favourite Parisian café tucked away on a side street near Notre Dame. You'll often find the owners tucked away in a corner enjoying their own café au lait or glass of wine.
Palais Royal and the Stripe Columns along the Jardin de Palais Royale are also worth visiting, followed by a visit to Kitsune Café for fabulous pastries, coffee, and adorable merch.
Fancy is up for high-tea with at Michelin starred restaurants like Le Bristol, Four Seasons Hotel George V, Le Meurice, or The Ritz Paris.
Visit the Sacre Couer – Tawnya likes to sit on the steps and listen to the street musicians with pastry or wine and enjoy the ambiance.  I lived on Rue LaMarck just to the right side of the church and it was an absolutely amazing view!
Check out Printemps du Goût where you can eat atop the mail department store of pronto with a view of the Eiffel Tower.
Bouillon Julien is a beautiful and inexpensive French restaurant in Paris. It's a restaurant that local Parisians frequent. It's a great place to have a nice romantic evening or celebratory dinner in amazing blue art nouveau décor.
If you're looking for a great meal on a budget check out The Savvy Backpacker's guide to Best Budget Restaurants in Paris
SUMMARY AND MAP OF EACH ARRONDISSEMENT
Image from https://familieslovetravel.com/where-to-stay-in-paris-families/ Great reference for families and where to stay and why.
HIGHLIGHTS OF EACH ARRONDISSEMENT
Paris has 20 Arrondissements, and knowing what each one provides is great for planning your days and travel through the city.
1st Arrondissement – This arrondissement is one of the most interesting districts in town with top sights including the Louvre, the Tuileries Gardens, Rue de la Paix, La Conciergerie, Sainte-Chapelle, the Arts Decoratifs Museum, Place de la Concorde and the Ile de la Cité district. It is the lively and the heart of the city with Les Halles renovated shopping mall.
2nd Arrondissement – This old district with tiny streets boasts the remarkable covered Shopping Arcades, their tiny shops and restaurants. The 17th century Place des Victoires, and the 15th century Tour de Jean Sans Peur are interesting sights. The Grand Rex is the largest movie theater in Paris.
Rue Montorgueil is a street in the 1st and 2nd arrondissements of Paris, France. Lined with restaurants, cafés, bakeries, fish stores, cheese shops, wine shops, produce stands and flower shops. It is a place for Parisians to socialize while doing their daily shopping.
3rd Arrondissement – This district is an extension northwards of the fashionable Le Marais. The Picasso Museum is the top sight of the 3rd arrondissement. Musée des Arts et Métiers is a former abbey.
4th arrondissement – This district boasts two key attractions: Notre-Dame Cathedral and Le Marais with Centre Pompidou, Hotel de Ville, Place des Vosges, Picasso Museum, Carnavalet history museum, and BHV Paris department store. There are also two beautiful islands on the Seine River worth visiting: Ile de la Cité and Ile Saint-Louis.
5th arrondissement – The well known Quartier Latin  Latin Quarter where the Sorbonne University was founded in the 12th century. Many sights including Le Panthéon, Museum Paris, Paris Mosque, Rue Mouffetard market, Saint-Etienne du Mont Paris church, Paris Middle Ages Museum and Roman Therms.  Wonderful local bakeries, winding, picturesque streets, and small courtyards are among the discoveries here, while the area is also well endowed with museums and cinemas.
6th arrondissement – The core of the famous left bank Paris with Saint-Germain-des-Prés, Luxembourg Gardens, Saint-Sulpice church, Rue de Buci market, Rue de Sèvres fashion stores, Bon Marché Paris department store, and Raspail Organic Market.  If you like medieval history, old cafés where philosophers and writers once convened, and fantastic bakeries, the 6th might just be for you.
7th arrondissement – The chic and residential 18th century district is home to key attractions including the world famous Eiffel Tower, the Musée Rodin sculpture museum, Les Invalides military hospital with Napoléon's tomb, Musée d'Orsay impressionist museum, Quai Branly, and Our lady of the Miraculous Medal chapel.
8th arrondissement – The heart of this upscale district is the prestigious Champs-Elysées district with Arc de Triomphe, Rue du Faubourg Saint-Honoré, Avenue Montaigne, Grand Palais, Lido de Paris Cabaret and Le Crazy Horse Cabaret. There is a residential and affluent district around Parc Monceau.
The 7th and 8th are the decidedly tourism-focused side of Paris with posh residential streets, but many locals consider it to be less authentic and rather staid.
9th arrondissement – This busy district is home to the Paris Department Stores, Opéra Garnier, Grévin Wax Museum, and La Trinité Church. It recently became one of the most fashionable districts in town thanks to the Rue des Martyrs shopping street and the beautiful Place Saint-Georges. 
10th arrondissement – This arrondissement around the romantic Canal Saint-Martin in now very fashionable. Rue de Marseille is a favorite.  This arrondissement counts Gare de Nord and Gare de l'Est, two major train stations.
11th arrondissement – Young and affluent Parisians plebiscite this old working-class district near Opéra Bastille. Nightlife is animated as it counts many bars and restaurants in rue de Lappe, rue Keller and rue de Charonne.
12th Arrondissement – An arrondissement free of tourists were the spirit of the city can be felt: Opéra Bastille, AccorHotels Arena, Aligre Market, Bois de Vincennes, Bercy district.
13th arrondissement – No tourists in this district. High-rises and Chinatown restaurants around Avenue d'Italie. Station F startup incubator, the largest in Europe. BNF French National Library on the riverbanks. Best Street Art in town Paris Zoo is in the twelfth arrondissement.
14th arrondissement – Residential district with Paris Catacombs. The Cité Internationale Universitaire is a hidden treasure.
15th arrondissement – Residential district close to Eiffel Tower with Beaugrenelle Paris shopping mall, Aquaboulevard. The Porte de Versailles Exhibition Center and Tour Montparnasse with its gorgeous Paris view are both in the arrondissement.
16th arrondissement – The upscale residential district with Palais de Chaillot, Marmottan Museum, Musée d'Art Moderne, Fondation Louis Vuitton, Bois de Boulogne, Roland-Garros tennis stadium and the Paris Saint-Germain Arena.
17th arrondissement – Residential no tourist district around Parc Monceau
18th arrondissement – This multi-ethnic district is most of all famous for the romantic Montmartre hill and its top sights: Sacré-Coeur, Place du Tertre and Moulin Rouge Cabaret.
19th arrondissement – This multi-ethnic district includes a beautiful park, the Parc des Buttes-Chaumont, and the lively La Villette Basin. It is most of all renowned for the exceptional number of sights and venues in Parc de La Villette: the Cité des Sciences, Cité de la Musique, Philharmonie de Paris, Zénith Paris.
20th arrondissement – Multi-ethnic district. Apart from the out of the beaten track Père Lachaise Cemetery, this district has no specific sight of world-class. Belleville and Ménilmontant have many restaurants and bars.
THEMATIC PARIS MAPS
We've tried to make your life, and planning a little easier by compiling several reference maps of Paris and suggestions for how to maximize your time.
Transportation
Given the challenges of driving and parking in the city, the metro system serves as the primary mode of transportation among Parisians and tourists and is a safe and clean option. You can use the Paris metro map to identify metro lines and stations, as well as plan your route around the city.
Alternatively, you can download this printable Paris bus network map.
You can also see Paris via hop-on, hop-off tour buses,
For travel within the city of Paris, it's helpful to peruse the Complete Guide to Paris Transportation.
To get to or from other destinations in Paris, you can easily take local or national rail. There are six train stations in Paris, which you'll find located on our Paris Train Stations Map. The map shows the main stations and the arrondissement they occupy.
Monuments
Locate the top monuments on Paris monument map. It includes the Eiffel Tower, Notre-Dame, the Louvre, the Sacré-Coeur, the Arc de Triomphe, LA Conciergerie, the Saint-Chapelle, the Fondation Louis Vuitton, and the Palace de Chaillot.
Museums
The city is world-famous for its top museums of art: Musée d'Orsay, Louvre, Centre Pompidou, Musée d'Art Moderne, Musée Picasso, Musée Marmottan. Locate and view the top museums on Paris museum map.
Where to Eat
There are countless restaurants in the city, including French and International cuisine. Typically, the areas frequented by tourists don't provide good quality for the price. However, there are always exceptions. You can find our preferred restaurants in this Paris restaurant map.
Gardens and Parks
Locate the top gardens and parks on Paris garden map: Luxembourg Gardens, Les Tuileries, Parc de la VIllette, Buttes-Chaumont, Parc Monceau, Bois de Boulogne, Bois de Vincennes.
Sightseeing
Locate and view the top sights to see on Paris sightseeing map. It includes monuments, museums, parks, and gardens to visit. Alternatively you can check out the Paris tourist map.
Where to Shop
Discover the best shopping spots in the city with the Paris shopping map. Whether you prefer luxury fashion boutiques, department stores, or flea markets, you'll find a shopping venue that fits your taste.
If you are an Emily in Paris fan and wonder where it was filmed and places you must visit, please check out our other blog.  how to explore paris like Emily in Paris
Our final words of advice… enjoy and soak it ALL up.  Relish in the joie de vivre, or the joy of life, like the French does, and make sure to allow for lots of café time to enjoy a café au lait or of course a glass or three of some French champagne or sparkling wine!  The French are about pleasure and soaking it all up, whereas Americans treat food as fuel and are often in a rush….  Grab a seat and just people-watch while enjoying all the yummy eats.  Cheers!
More Blogs
We've created a FREE Champagne Themed Holiday Party Gift Tags & Escort Card Printables Bundle For The Holiday Season and New Years Eve HERE