A Guide to Rosé: What it is, How it is Made and What it Pairs With
April 11, 2023
In this guide learn how pink wine is made, how the grapes & colors define the taste & what rose pairs well with.
Although Rosé wine has been enjoyed for centuries, its popularity has surged in recent years, and we now celebrate with phrases like "Rosé all Day" and "Yes Way Rosé". The French even have their own term "rosé tout l'année" which translates to "Rosé all year round". We've even got the boys covered with "Brosé", which Urban Dictionary defines as "Pink wine enjoyed with friends, or your bros". With this rise in Rosé drinking culture, we wanted to share some fun and educational information to get you ready to Rosé your day away.
How is Rosé still wine made?
Even through Rosé wine is made using red wine grapes, the winemaking process differs slightly from that of red wine. The grapes are crushed and left to soak with the skins for a shorter period than in red wine production, typically 2-20 hours. This results in a pink wine with a lighter flavor profile than red wine. There are 4 methods for producing rosé wine: maceration, saignée, direct press, and blending.
Maceration – This is the most common method and involves crushing the grapes and allowing them to rest, or macerate, in their skins for a short period of time. Macerated rosé leans toward deeper hues and fuller-bodied rosé.
Saignée – The saignée method is less common and involves "bleeding off" a portion of red wine juice during the fermentation process and using it to make rosé wine.
Direct Press – This process drains the pressed juice off the skins pretty much immediately, resulting in a very light pink hue and brighter flavors.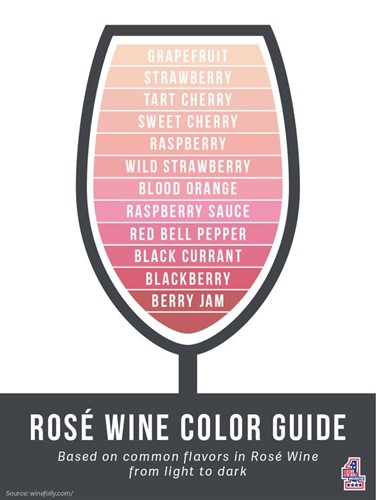 Blending – This method is a literal blend of white and red wines and is most common in the production of rose champagne and rosé sparkling wine.
Rosé wine can be made from a variety of grape varieties, including Grenache, Syrah, Pinot Noir, Cabernet, Sangiovese, and Cinsault, to name a few. Each grape variety brings its own unique flavor profile to the wine. Grenache grapes, for example, are known for producing a rosé with a fruity, strawberry flavor, while Syrah grapes produce a more robust, full-bodied rosé.
Does the color have an impact on the flavor of Rosé? Although the shade of rosé will not define the sweetness or dryness of the wine specifically, it will give you insight as to what you can expect from the flavor profile and hint at what grapes were used in the process. The lighter the color, the closer towards a white wine the flavor will be, think citrus, floral, and mineral notes, and clean finish, whereas the darker the colored rosé's will be fuller bodied and have more red berry and earthy notes.
To learn more about the regions and grape varietals check out this awesome article from Vinepair.
How and when to drink Rosé and what to pair pink wine with
Rosé is versatile and perfect for any occasion and pairs well with a variety of foods including seafood, salads, and light pasta dishes. It can be enjoyed year-round but really shines in Spring, Summer, and Fall and is perfect for any outdoor gathering. It is also great as an aperitif, a fun wine-based cocktail (which means less alcohol) and is perfect for any picnic or charcuterie board or pairing with spicy dishes or Barbeque.
Rosé is shining in the world of cocktails and pairs beautifully with citrus, fruits, and other spirits. For inspiration and recipes check out Elle Décor's 25 Rosé Cocktail Recipes.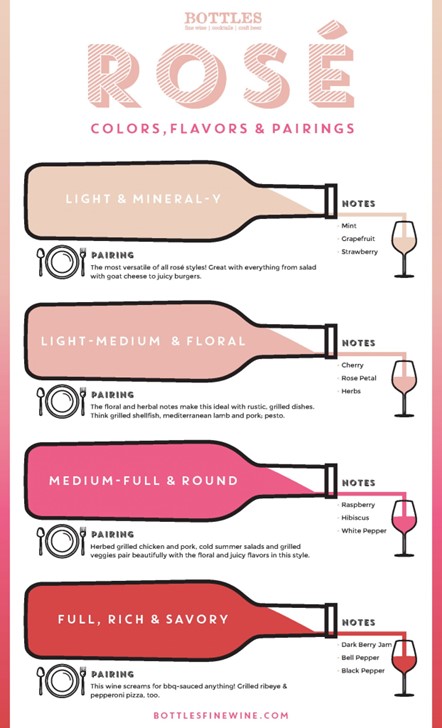 What are the types of Rosé Wine Grapes
Red grape varieties are used to make rosé, as the skin contact and saignée methods reduce the red color in the wine. So grenache, syrah, cabernet sauvignon, tempranillo, sangiovese, malbec, mourvedre, carignan, zinfandel, cinsault, and pinot noir are all common varieties used for rosé and even blends.
Even though rosé wines tend to the lighter side, they still offer a lovely range of sweet to dry or even hints of spice or a savoriness, and we like to think of them as a great 'tweener' wine as they are a perfect balance of offering the lighter profile or a white wine, while also providing more structure and depth for those that are fans of red. The flavors lean on the fruity side, so you can expect notes of strawberry, citrus, melon, raspberry, cherry, and fresh flowers.
Rosé wine blends are made from a combination of different grape varietals. Some rosé wines lean more heavily on specific grapes, which create subdivisions, or different "types" or "styles," of rosé. Each type of rosé wine has a slightly different flavor profile depending on the grapes used.
Provence rosé hailed as the most versatile of rosés, the Provence rosé is a wonderful choice for any occasion. It's some of the best rosé you can get, and it's primarily produced in Provence, France—hence, the name.  There are however adjacent regions in the Sud (South) de France or what's known as Pays d'Oc – Indication Géographique Protégé, like our Tres Chic Rosé.  This fruity and light wine pairs well with any cuisine and its simple combination of strawberry and rose petal flavors makes it easy to enjoy on any occasion, from relaxed to formal, especially since it pairs well with a broad range of cuisines.   Shop Now, or Click to learn more
Sangiovese rosé is generally an Italian wine, and is fruity but dry. Tasting notes: rose petal, green melon, strawberry, pomegranate, cranberry with acidic finish.  A bright, dry rose, Sangiovese rosé gives a wake-up call to dormant taste buds. Its powerful citrus notes and acidic finish take over with a full, refreshing orchestra of flavor.
Tempranillo rosé is often a Spanish variety and is savory, dry, and has a fruity, yet meaty flavor profile.   Tasting notes: watermelon, raspberry, green peppercorn, grilled chicken.  A popular rosé in Spain, Tempranillo rosé blends a unique profile with both fruity and meaty notes. On the savorier side, this dry rosé is the perfect addition to a summer barbecue!
Syrah rosé is a bold, dry wine with notes of olive and cherry. It does not need to be served as cold as most rosé wines.  Tasting notes: cherry, olive, red pepper flake, lime zest, cured meat. Syrah rosé packs a bold, robust flavor as it's more full-bodied than most other rosés.   This isn't your typical fruity rose, if you're looking for a more daring, adventurous choice, Syrah rosé might be just the one.
Cabernet Sauvignon rosé is savory, dry, and tastes much more like red wine than most other rosé wines.  Exclusively made with the saignée method, it's an excellent choice for red wine connoisseurs foraying into rosé.  It is more acidic than regular cabernet sauvignon with notes of black pepper, black currant, cherry, and spice.  The most similar rosé to red wine, Cabernet Sauvignon rosé often features a deeper shade of pink. Blending spice with the flavor of ripe cherries, this rosé has higher acidity than Cabernet Sauvignon red wine, which gives it a light yet robust taste.
White Zinfandel Rosé is a type of sweet rosé with moderately high acidity levels. Flavor notes of white zinfandel are lemon, melon, strawberry and even cotton candy.  White Zinfandel will cure a sweet tooth with its high acidity and candied fruit taste. While some types of White Zinfandel can be on the drier side, most are known for their luscious, sweet an easy choice.
Tavel rosé is robust, savory, rich, and very dry. A little ambiguous when it comes to tasting notes, Tavel rosé hits the spot for a dry, savory wine.  Tavel has distinct fruit notes, berry, but with an earthier and nuttier twist.  Lower in acidity than other rosés, Tavel is known for being higher in alcohol content, usually with a minimum of 11%. Similar to the vibrant characteristics of red wine, Tavel holds a strong berry flavor with its earthy undertones.
Mourvèdre rosé is a full-bodied rosé with initial floral notes that transform on the palate into a rich cherry, smoky, and meaty flavor.   Mourvèdre rosé is a full-bodied rosé with a rounded flavor profile consisting of violets, red plums, smoke, meat, rose petal. With deeper fruit notes like plums and cherries, hints of smokiness and meat can show up as well. An excellent pairing for Mediterranean or Greek cuisine, Mourvèdre is sure to please a refined rosé drinker.
Pinot Noir rosé is a delicate and crisp rosé with notes of crabapple, strawberry, and melon. Bright and crisp, Pinot Noir rosé defines a sophisticated and airy choice for the wine connoisseur. Although it embodies sweet characteristics, its acidity level lends to a drier taste. Enjoy a fresh glass of this rosé with lighter dishes like tapas, seafood, and salads.
Rosé Champagne, or sparkling rosé, is champagne blended made with red grapes. Rosé Champagnes or sparkling wines are a little stronger in flavor profile than traditional Champagne.  The taste will vary depending on the red wines chosen, but most will have a powerful strawberry and raspberry flavor.   Our Le Grand Courtage Brut Rosé French sparkling wine consist of Chardonnay, Ugni Blanc and Gamay, a delicate red grape that offers strawberry, raspberry and lilac.  Shop Now, or Click to learn more
Grenache Rosé Bursting with fruit flavors, Grenache is usually dry and best served cold. With balanced acidity and tannins, fruity notes shine through for a delightful, rich taste. Popular in Provence and Spain, Grenache rosé has tasting notes of orange, hibiscus, strawberry, watermelon, and lemon and might be just what you need to fulfill your wanderlust.
The bottom line – Rosé wines are diverse, and not quite as light as most white wines, but much brighter and lighter bodied than red wines. It is the perfect beverage to satisfy a wide range of palates.  It's cuisine, cocktail and consumer friendly and enjoyable to share with friends, at social gatherings, weddings, picnics, pool parties, or while relaxing in a bubble bath, after all, Rosé all Day!
More Blogs
We've created a FREE Champagne Themed Holiday Party Gift Tags & Escort Card Printables Bundle For The Holiday Season and New Years Eve HERE